Transporting food and drinks for a picnic can involve tricky logistics, but these recipes specifically made to be baked, stored, or prepared in sturdy jars and bottles make packing easy. We've used light seasonal ingredients like leeks, carrots, and strawberries to create an elegant Easter lunch, plus included a refreshing, large-batch citrus cocktail to sip on while you snack and relax on a blanket.
Get more picnic intel for the warmer weather that's finally returning (and all the al fresco dining that implies to come), or if it's still a bit too chilly for that where you are, get inspired by some other Easter ideas in the meanwhile.
Of course, you could always make these recipes in larger format for an indoor lunch (or indoor picnic), and since it is Easter, a chocolate bunny wouldn't hurt either way.
A light and creamy carrot custard topped with layers of French lentils enriched with goat cheese and fresh zucchini sauteed with thyme and leeks is a lovely and multifaceted vegetarian lunch option. Get our French Lentil Terrine with Savory Carrot Custard recipe.
Weck Tulip Jars, 6 for $23.81 on Amazon
Ball jars also work, but the fluted shape of these jelly jars is particularly pretty.
Buy Now
A loaf of bread, a jug of wine, and these salmon rillettes would make a pretty fantastic spread all on their own, but as part of a springtime menu, this creamy, lightly smoked terrine is even better. It's made from a mixture of smoked and fresh salmon, with Pernod (a French anise liqueur), shallots, and a lemony crème fraîche-and-butter dressing. Get our Smoked and Steamed Salmon Rillettes recipe.
Fresh berries baked under an almond crisp topping are delicious—and when they're baked in small jars, they're not only adorable, but automatic portion control. Get our Strawberry-Blueberry Crisp recipe.
Canned wine or spiked seltzer are perfectly legitimate picnic options, but you can opt for cocktails if you prefer. This refreshing floral drink has you mix the base of elderflower syrup, Lillet Blanc, and limoncello in a bottle, then simply pour it out and top if off with club soda once you've found the perfect spot for your blanket and picnic basket. Get our Corsican Cocktail recipe.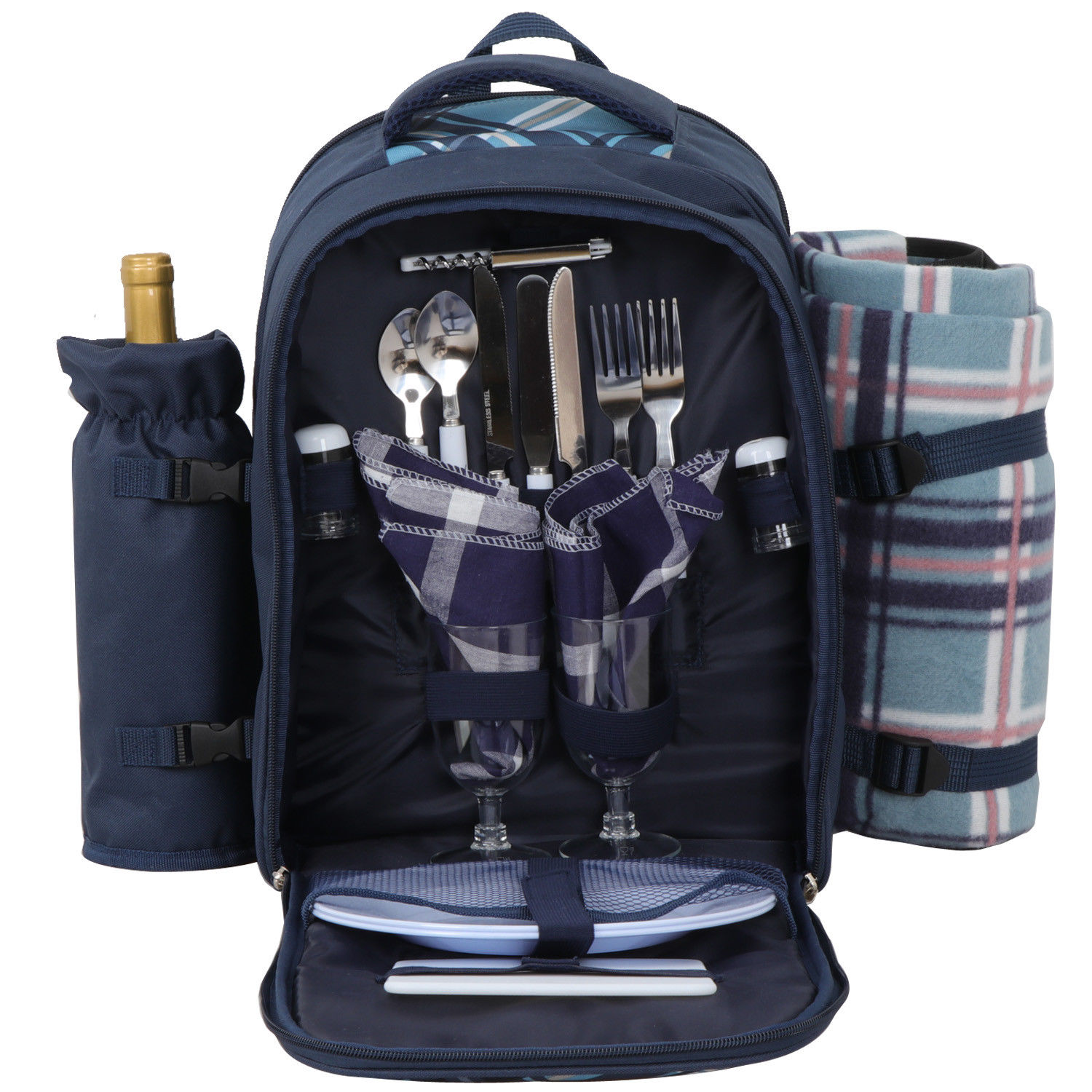 Zeny 2-Person Picnic Backack Set, $29.95 at Walmart
A modern take on the picnic basket, this comes with insulated cooling compartments, wine glasses, a cheese knife, a blanket, and more.
Buy Now
All featured products are curated independently by our editors. When you buy something through our retail links, we may receive a commission. For more great hand-picked products, check out the Chowhound Shop.
Photos by Chris Rochelle / Chowhound.com
See more articles